O Debian 11 "bullseye" foi lançado!
On Sat 14 August 2021 with tags
bullseye
Written by
Ana Guerrero Lopez, Laura Arjona Reina and Jean-Pierre Giraud
Translated by
Paulo Henrique de Lima Santana (phls)
Artwork by
Juliette Taka
Translations:
en
fr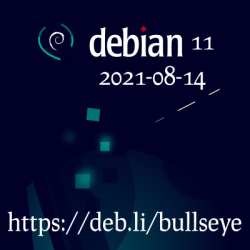 Estamos felizes em anunciar o lançamento do Debian 11, codinome bullseye!
Quer instalar? Escolha sua mídia de instalação favorita e leia o manual de instalação. Você também pode usar uma imagem oficial da nuvem diretamente no seu provedor de nuvem ou experimentar o Debian antes de instalá-lo usando nossas imagens "live".
Já é um(a) usuário(a) Debian feliz e deseja apenas atualizar? Você pode facilmente atualizar sua instalação atual do Debian 10 "buster"; por favor leia as notas de lançamento.
Você quer comemorar o lançamento? Fornecemos alguns materiais gráficos do bullseye que você pode compartilhar ou usar como base para suas próprias criações. Acompanhe a conversa sobre o bullseye nas redes sociais através das hashtags #ReleasingDebianBullseye e #Debian11Bullseye ou junte-se a uma festa de lançamento pessoalmente ou online.
---