Debian 11 Bullseye est publiée !
On Sat 14 August 2021 with tags
bullseye
Written by
Ana Guerrero Lopez, Laura Arjona Reina and Jean-Pierre Giraud
Translated by
Jean-Pierre Giraud
Artwork by
Juliette Taka
Translations:
en
pt-BR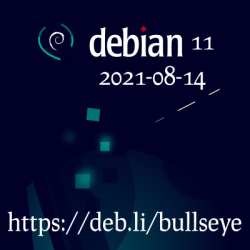 Nous sommes heureux d'annoncer la publication de Debian 11 Bullseye.
Vous voulez l'installer ? Choisissez votre support d'installation préféré puis lisez le manuel d'installation. Vous pouvez aussi utiliser une image officielle pour l'informatique dématérialisée directement avec votre fournisseur ou essayer Debian avant de l'installer avec nos images autonomes.
Vous êtes déjà un utilisateur heureux de Debian, et vous voulez juste la mettre à niveau ? Vous pouvez facilement mettre à niveau votre installation de Debian 10 « Buster » en consultant les notes de publication.
Vous voulez célébrer la publication ? Nous vous offrons quelques illustrations de Bullseye que vous pouvez partager ou utiliser comme inspiration pour propres créations. Suivez la conversation à propos de Bullseye sur les médias sociaux avec les étiquettes #ReleasingDebianBullseye et #Debian11Bullseye ou venez nous rencontrer en personne ou en ligne dans une fête de publication !
---